Gallery...
Featured here are images of collections of tiles, bespoke panels, individual pieces, and patterns.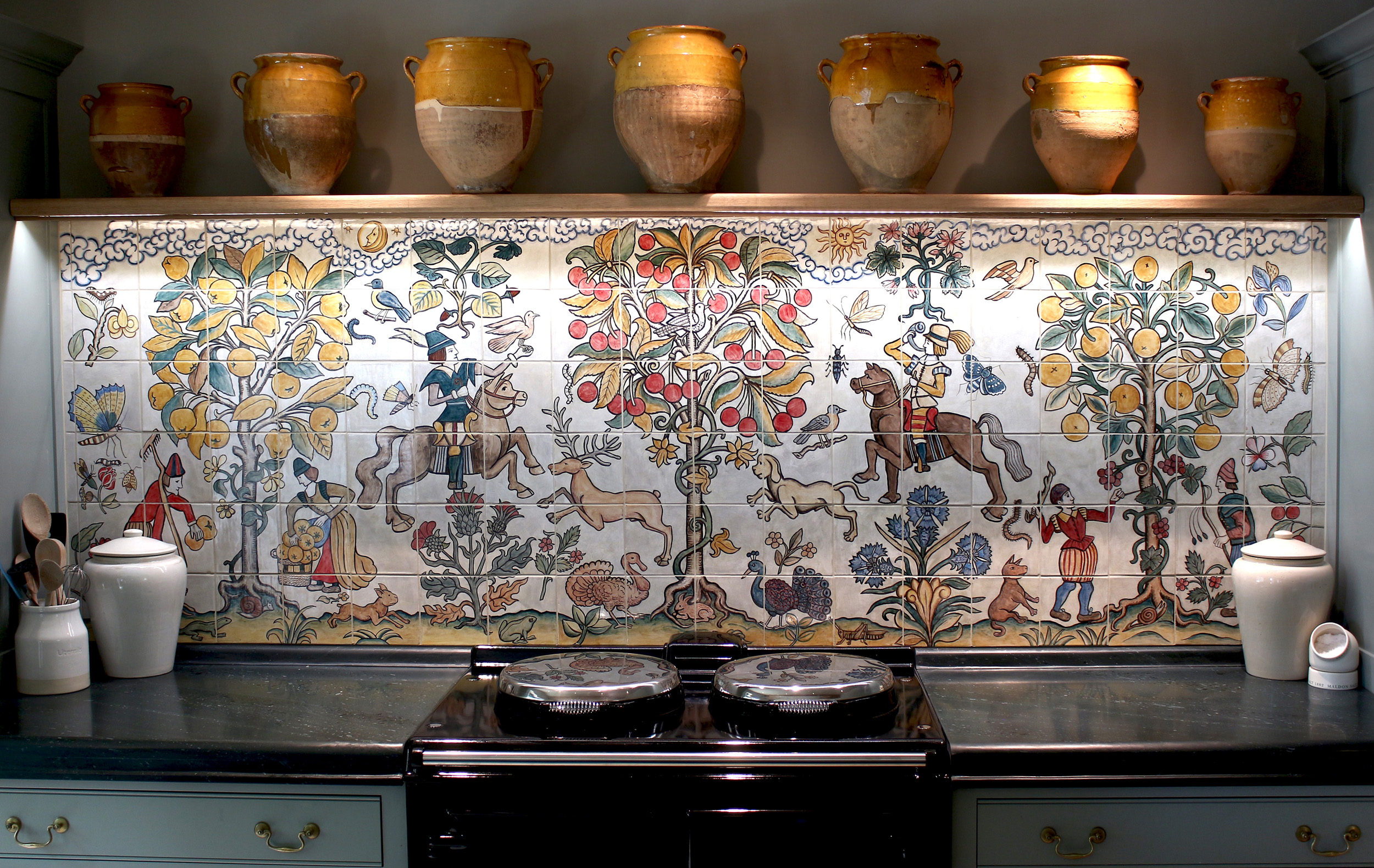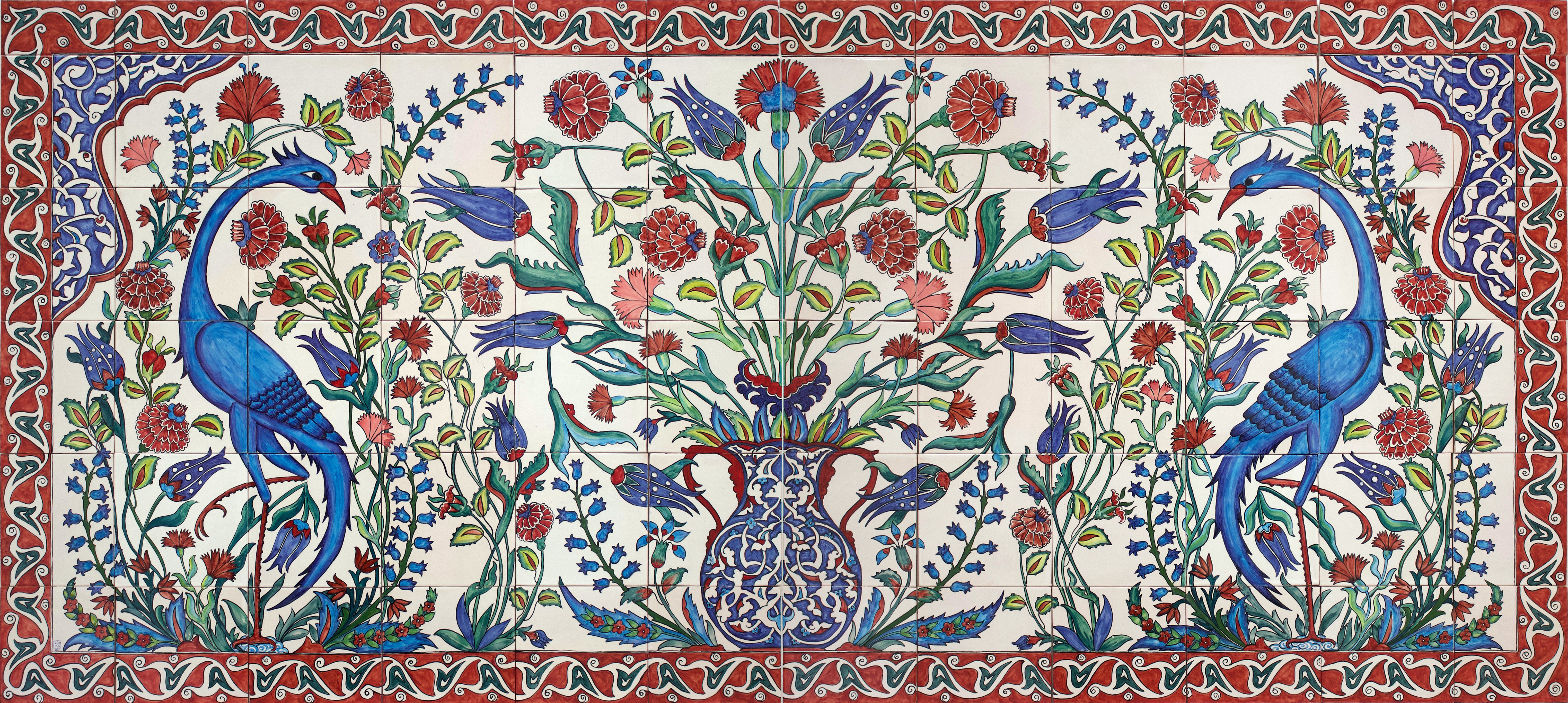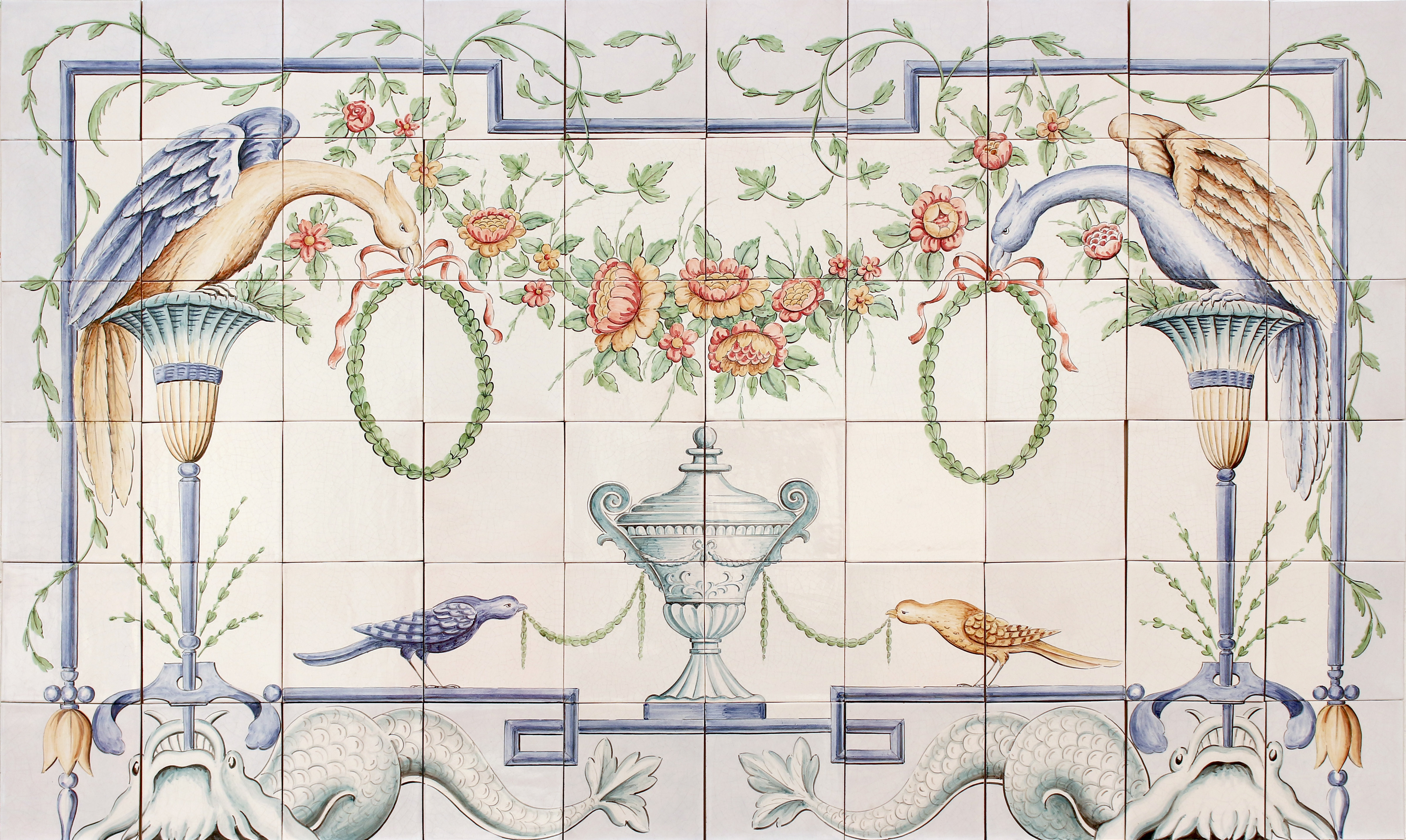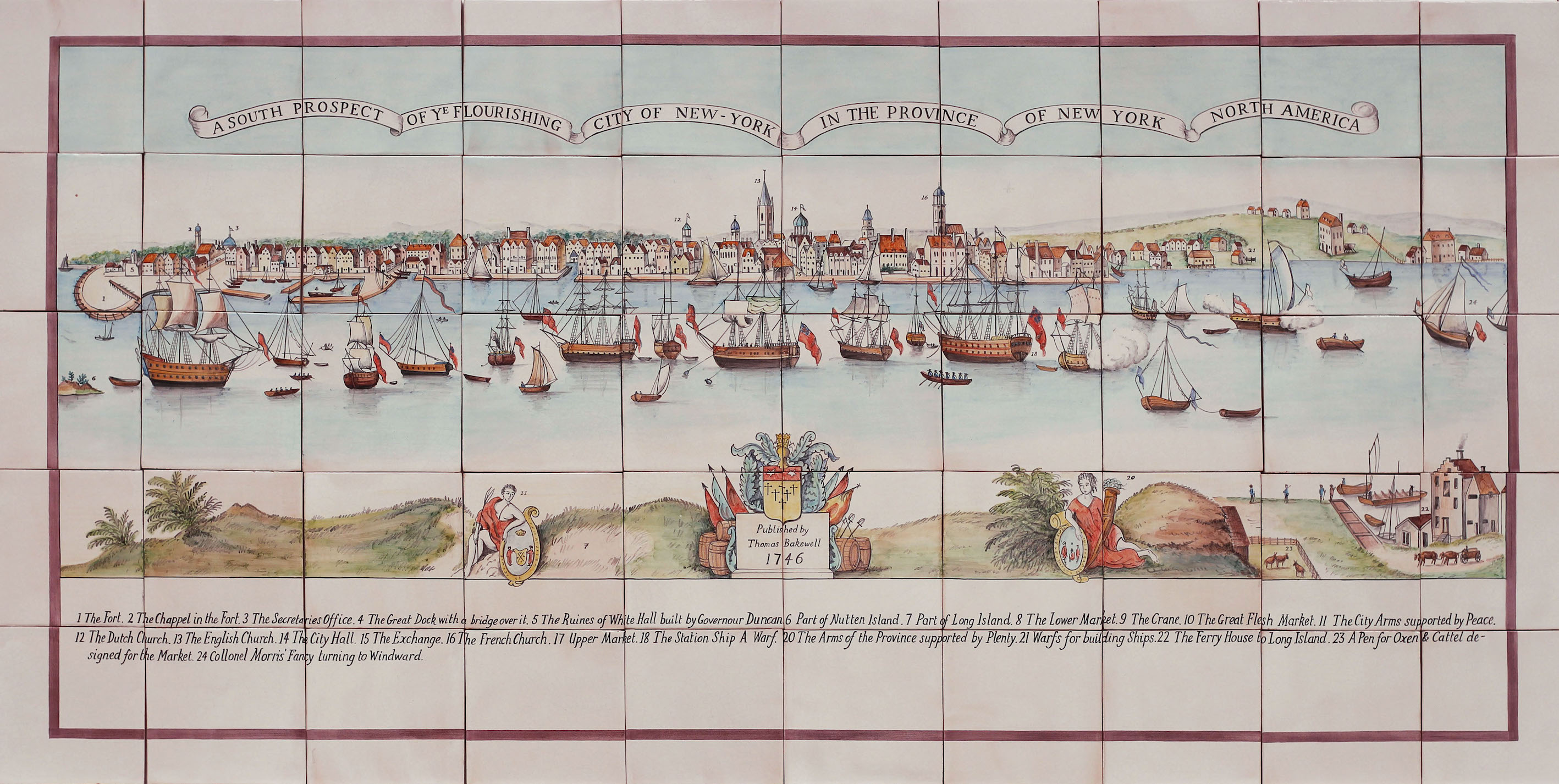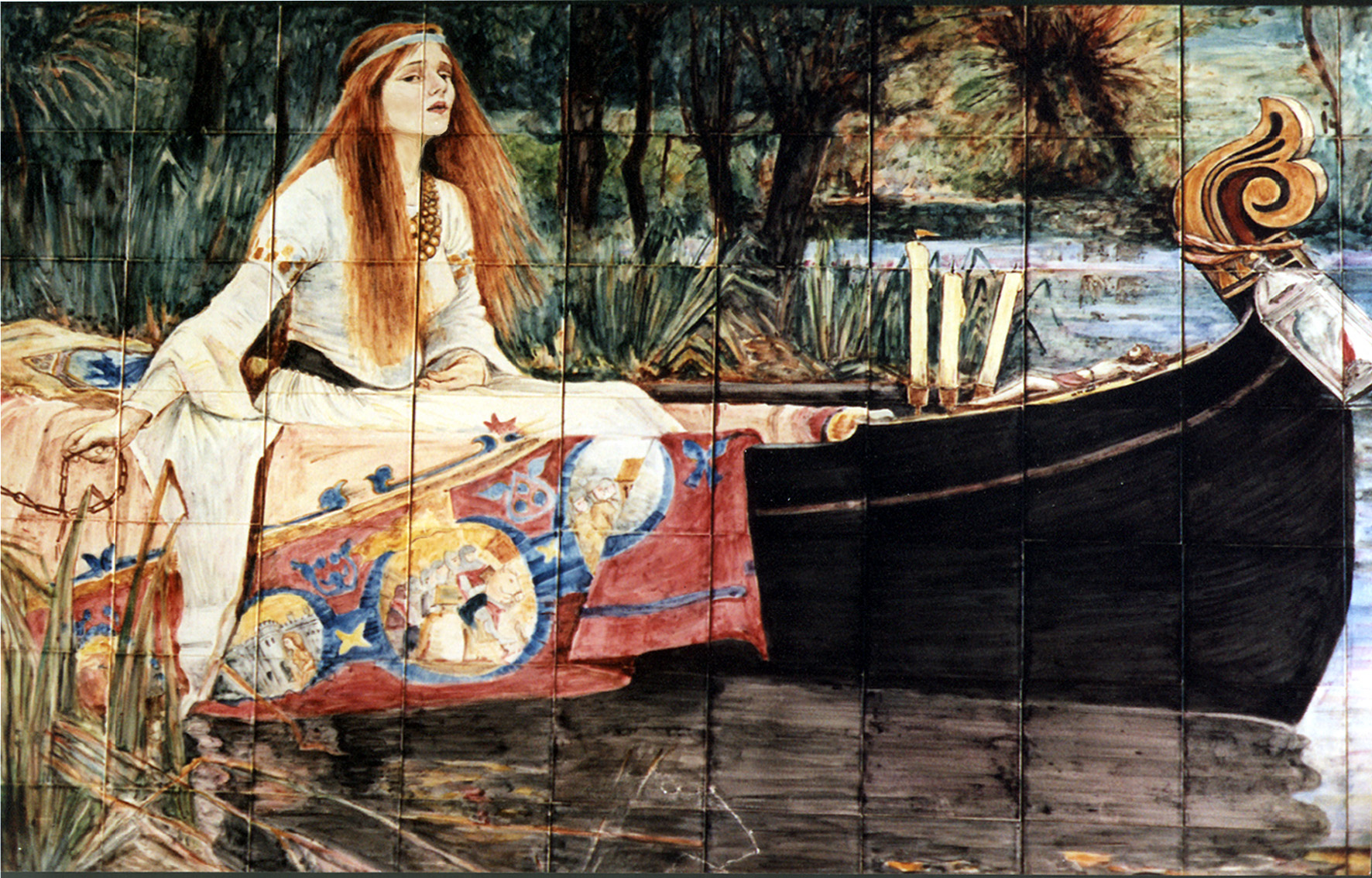 The 'Lady of Shalott' reproduced on tiles, painted by Doug. Our highly skilled artists can take almost any image and apply the design to tiles, recreating a masterpiece to sit in your home.
To see more of our Panel work, please visit our Handmade Tile Panels page.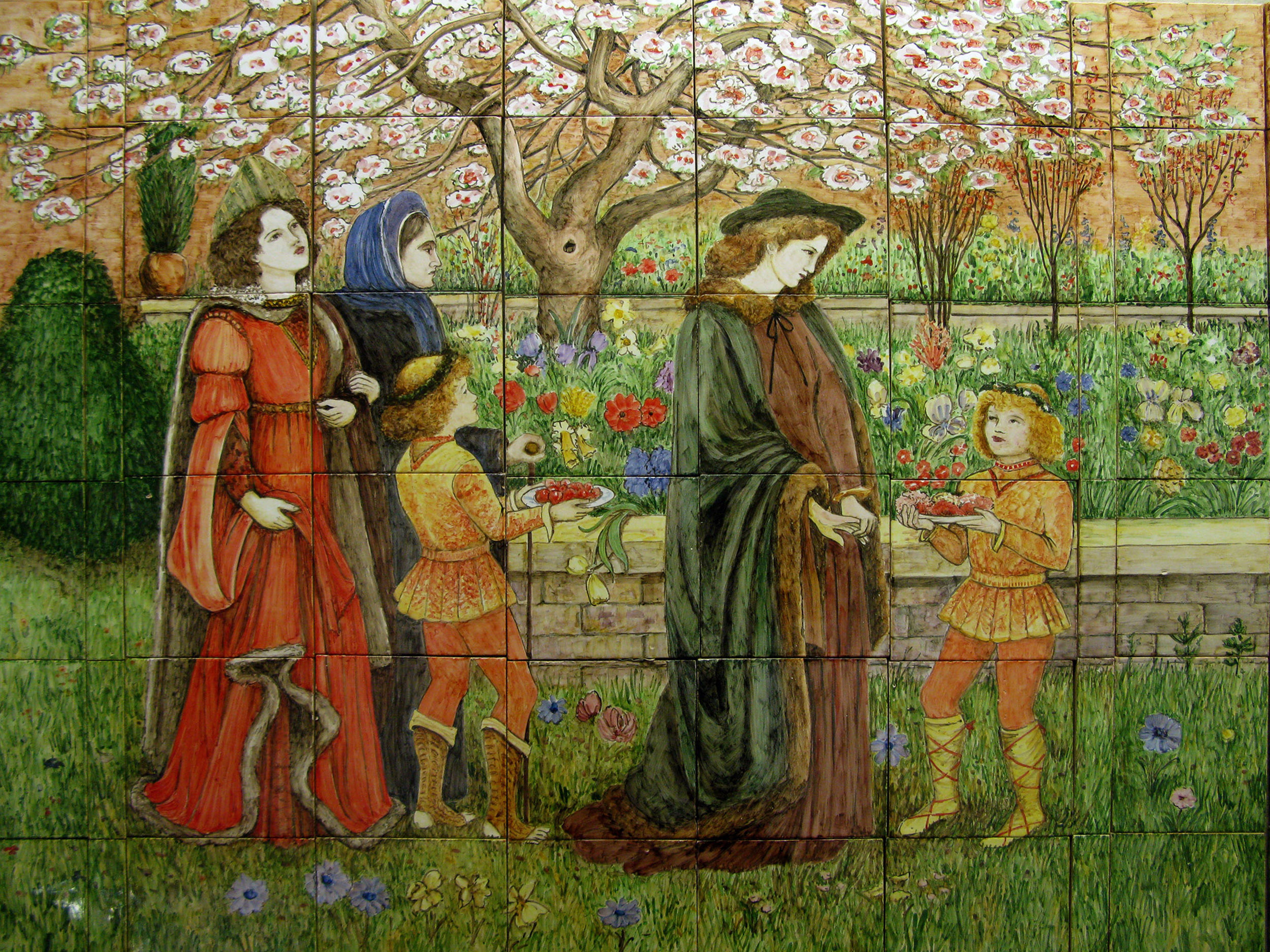 A section of a panel painted for a kitchen based on the Pre-Raphaelite painting 'The Enchanted Garden Of Messer Ansaldo' by Marie Spartali Stillman.
Created specifically to fit an area, our tile adaptations of original paintings allow you to have a masterpiece in your own home.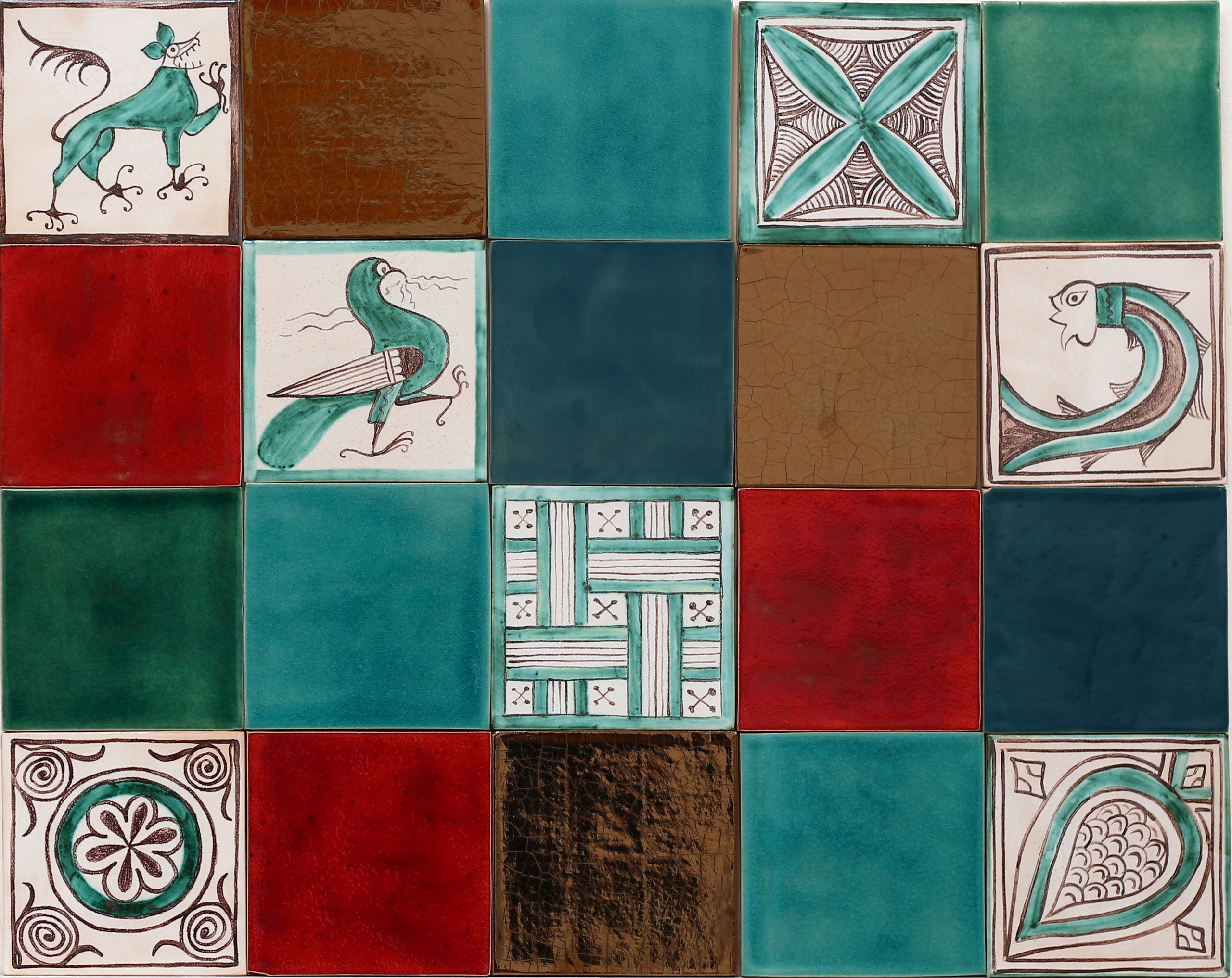 A client requested our Papal tiles to be interspersed with a selection of our 'Art Glazes'. These tiles are inspired by the Popes Palace ('Palais des Papes') in Avignon, France.
Featured here in the 5″ size, but our Papal tiles are also popular in 6″ or 4″ (as stair risers).
To see more of our Papal Designs, visit our PAP05 page.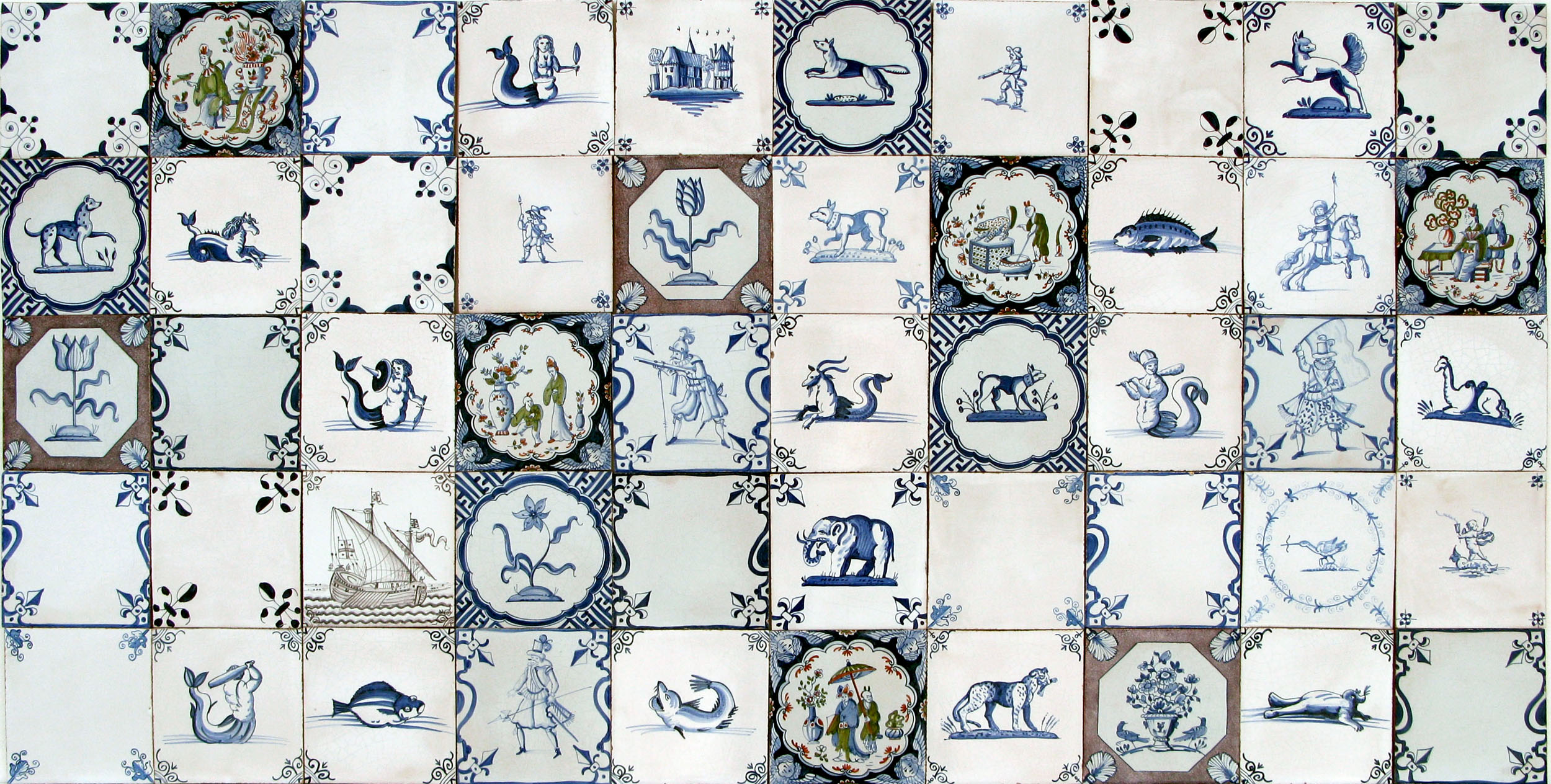 A very mixed assortment of Delft images which shows how far you can go with mixing any of these tiles together to create the sense of an interesting collection of antique Delft tiles. All these designs can be found on our website or new ones can be painted to order.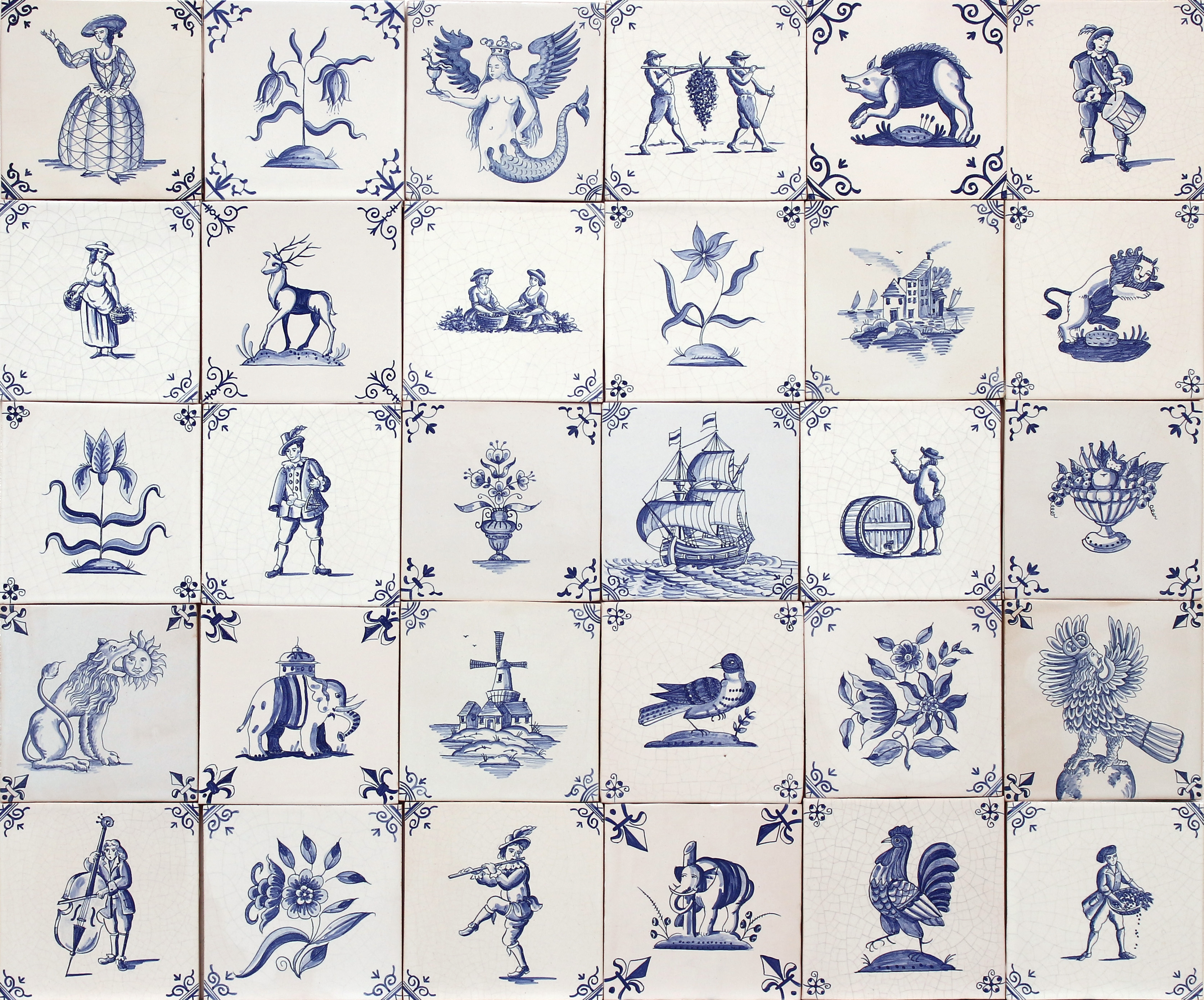 A further collection of mixed Delft tiles.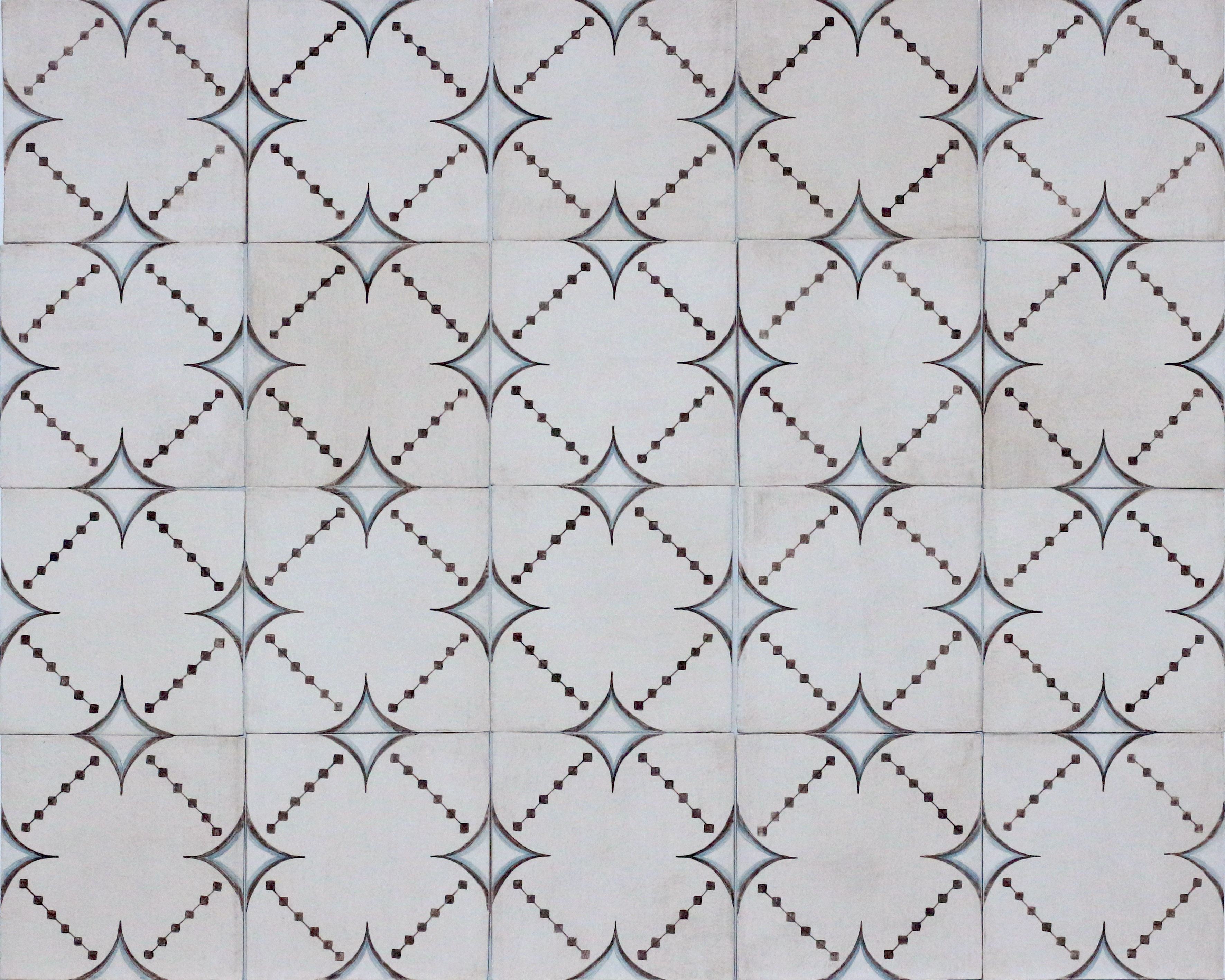 A collection of our extremely popular 'Thera Star' design. This design is nearly always painted onto our Fresco finish, however it can be adapted to suit a glaze.
Suitable for both walls and low traffic floors, there is the option of creating an infinity effect with this recurring pattern in your bathroom.
To see more of our Fresco designs, visit our PAT02 page.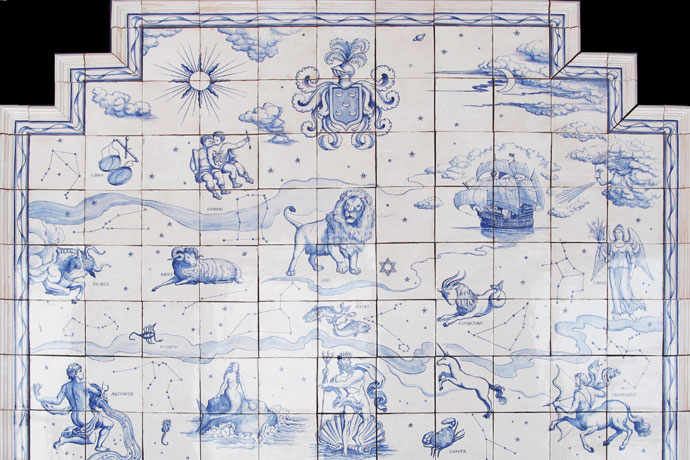 A project for a client in London. It is framed by a half relief border, the border design itself having been created especially for this panel. All the elements are of personal significance, while being based on a traditional astrological illustrations.
To see more fantastical designs, view our DEL42 range.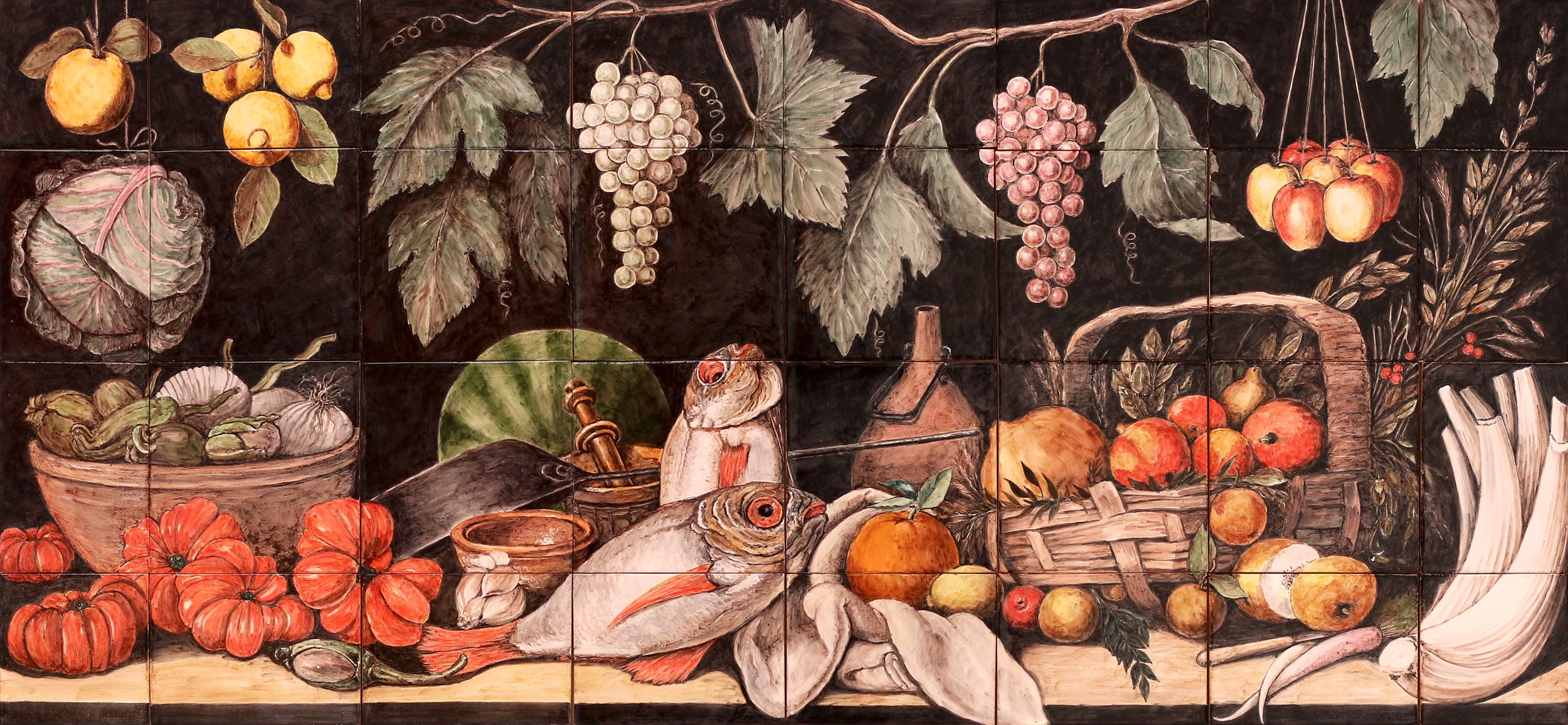 A still life panel designed and painted by Douglas Watson for a customer in Oxfordshire.

A spectacular panel created for a client in Minnesota, USA. We worked over several months with the client to develop the image that incorporated what she was looking for–local flora and fauna set in the landscape of her surrounding area.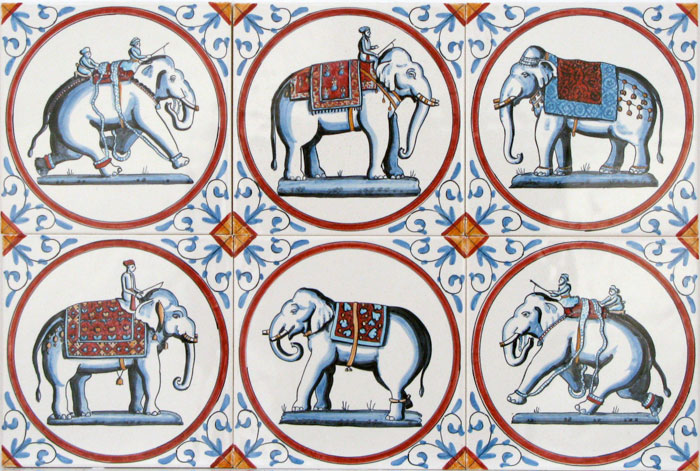 These images of traditional Indian elephants were used for an original fireplace theme. These are a great example of how our designs can de adapted in any colour-way to suit your home.
Most of our designs can be placed in circles too, with any corners of your choosing.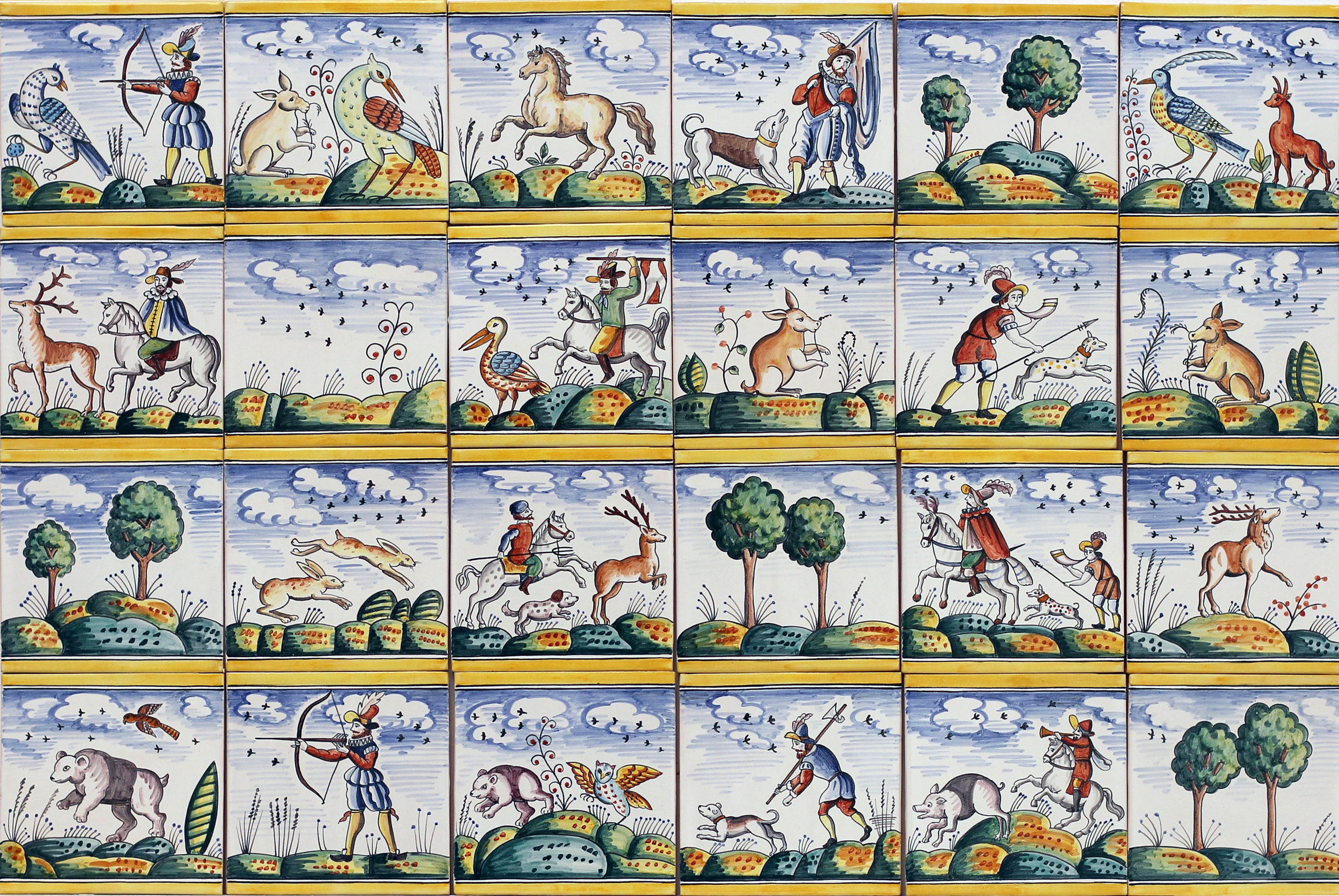 The 'Hunters Series' as a collective panel. This collection of tiles creates a lovely hunting scene, that has been used by clients as a hearth or as a frieze. More images have been created for this particular panel, for example, the trees and additional images of figures with animals – as we only have 16 available on the website. We are able to adapt any range to any taste, and can create more of one range of tiles if you so desire.
To see the Hunters series, visit our DEL15 range.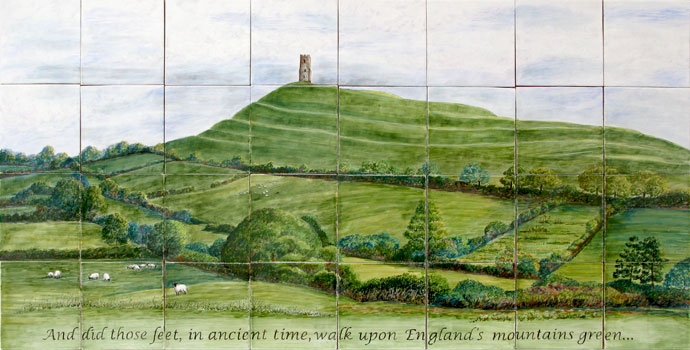 An image of 'Glastonbury Tor' designed and painted by Janet, with a caption from the 'Jerusalem' hymn by William Blake.
To view more of our Panels, please visit our Handmade Tile Panel page.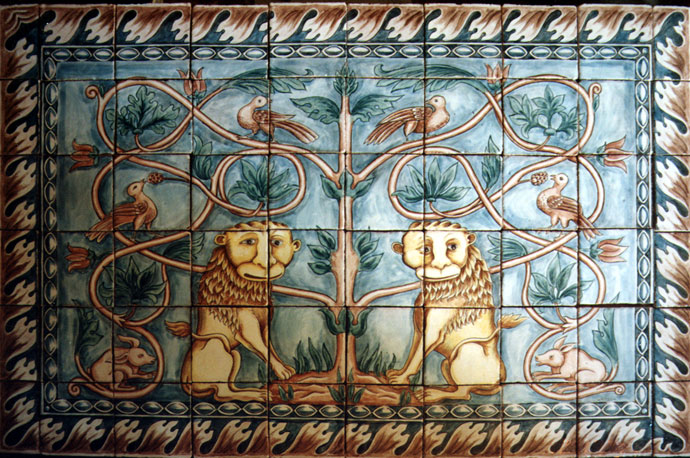 A panel based on a stone carving in the church of Santa Maria Assunta on the island of Torcello in Venice, pictured here with a border.
To see more of our Panel work, please visit out Handmade Tile Panels page.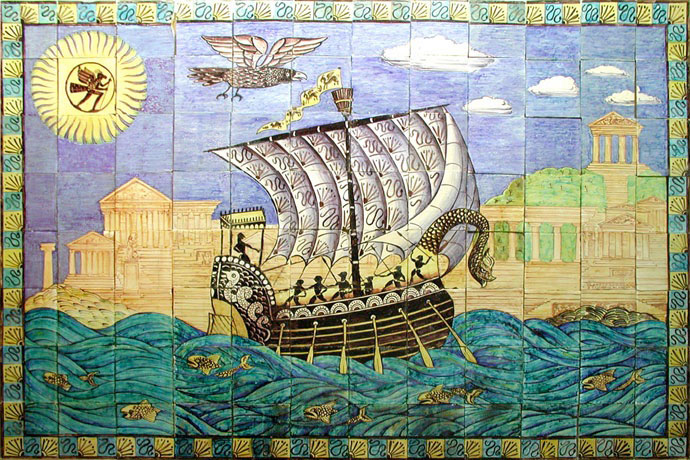 This spectacular panel depicts Sinbad the Sailor. The style is based on William de Morgan, a famous English tile maker and designer of the 19th century.
See below for an adaptation of this design and visit our Handmade Tile Panels for more ideas.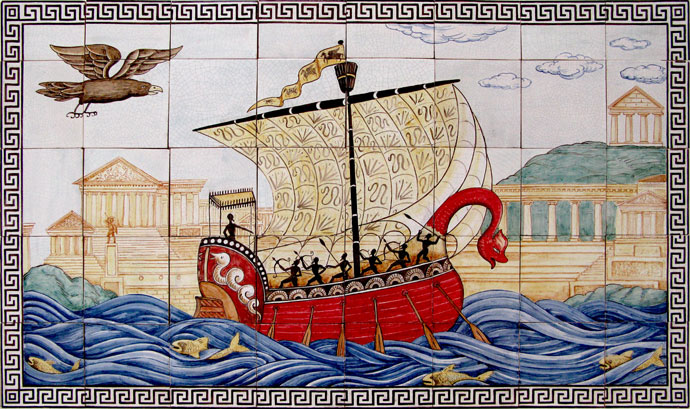 This spectacular panel depicts Sinbad the Sailor. Based on the panel above, but in a different colourway and style.
To see more of our Panel work, please visit out Handmade Tile Panels page.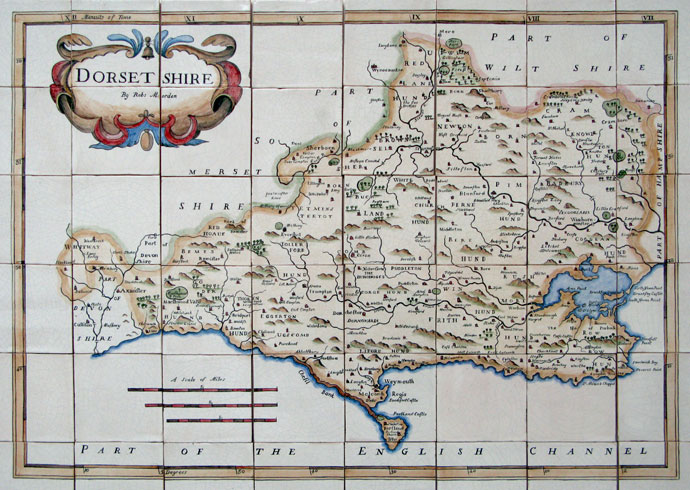 A map of the Dorset Shire, on 5″ tiles, cut to fit a specific area.
To see more of our Panel work, please visit out Handmade Tile Panels page.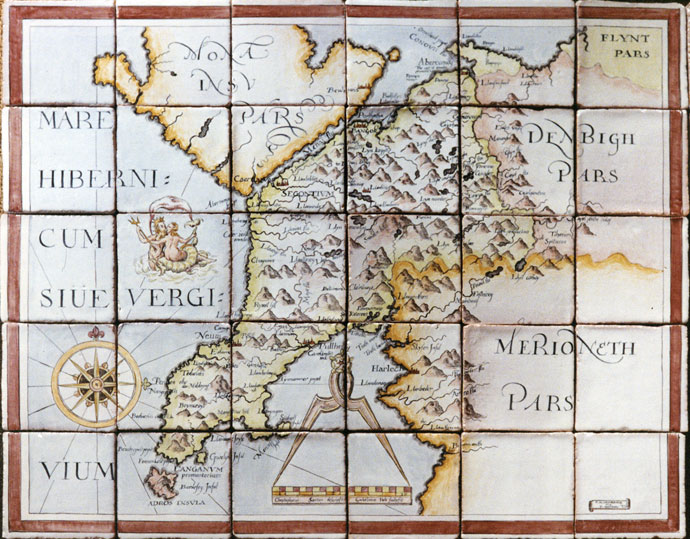 A Welsh Map, painted for an English client, on 5″ tiles. Like this panel, we are able to produce tiles that are made to fit a specific area.
To see more of our Panel work, please visit our Handmade Tile Panels page.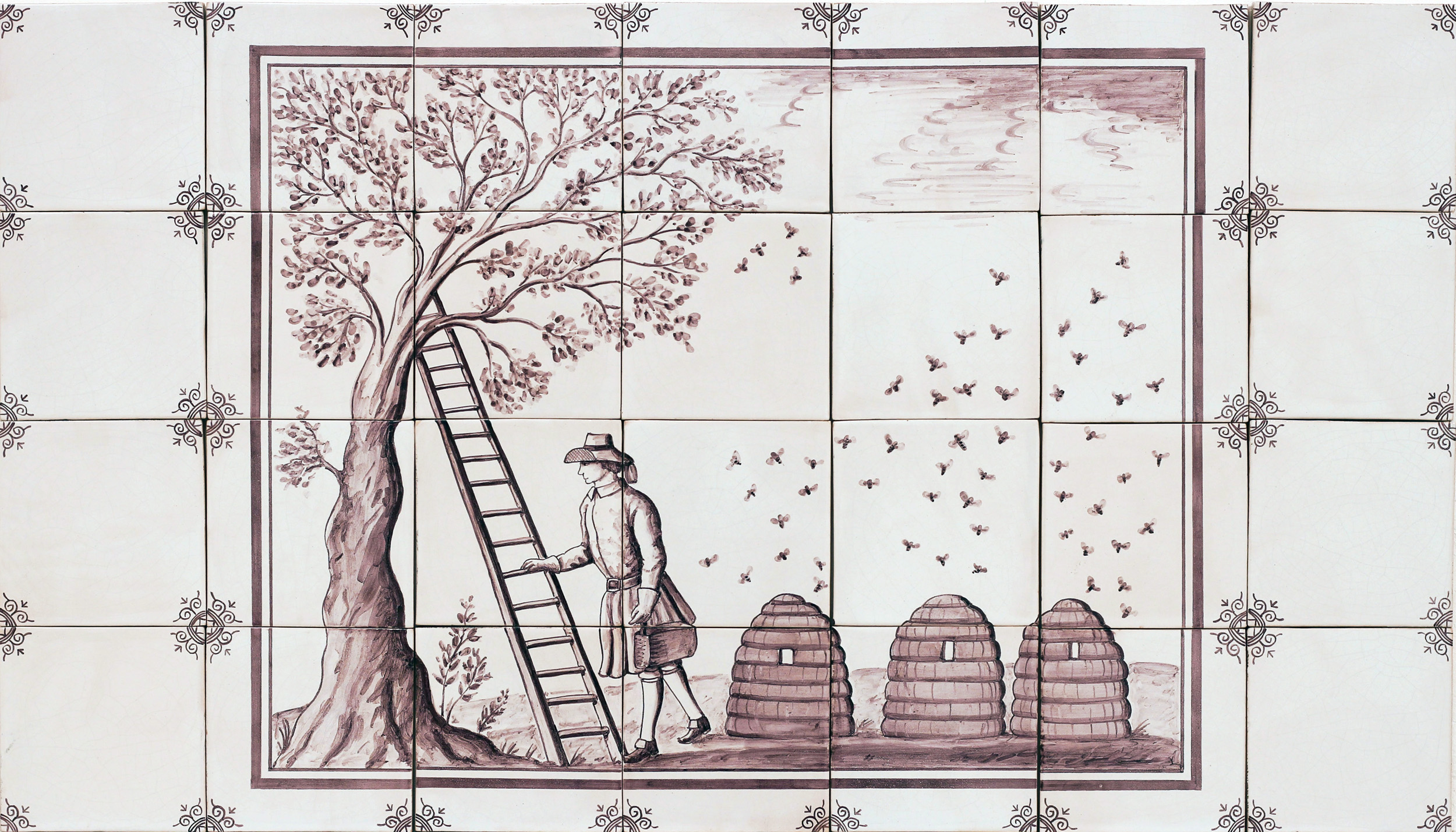 A Beekeeper Panel, painted to order in Manganese tones. This panel has been specially designed to fit a backsplash area, with corner designs painted around the panel so that it is in keeping with the rest of the tiles.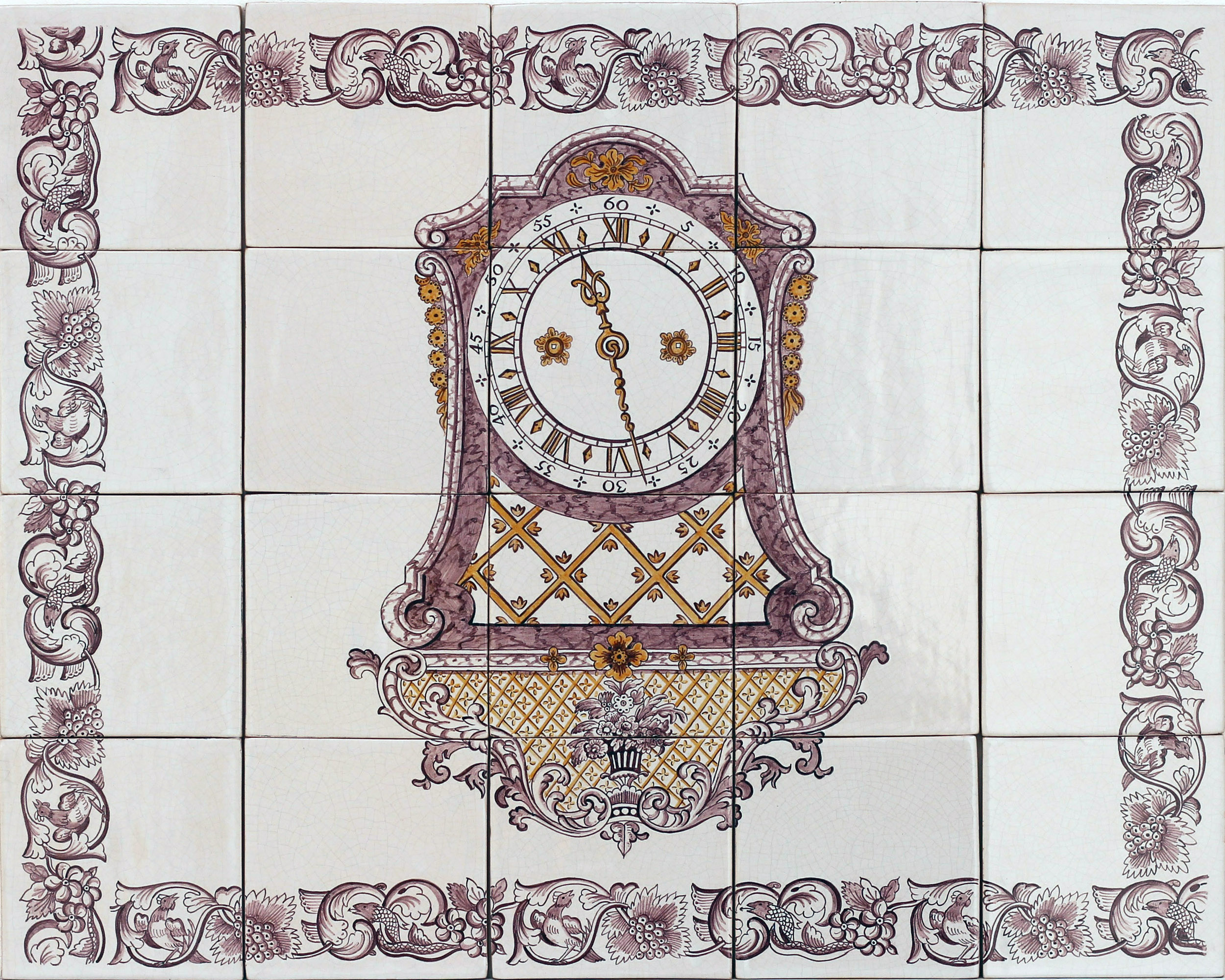 An Antique Clock design, with a botanical and wildlife border, painted in a traditional style on a pinky white background. Using only Manganese and Gold, it successfully replicates the style of an antique clock.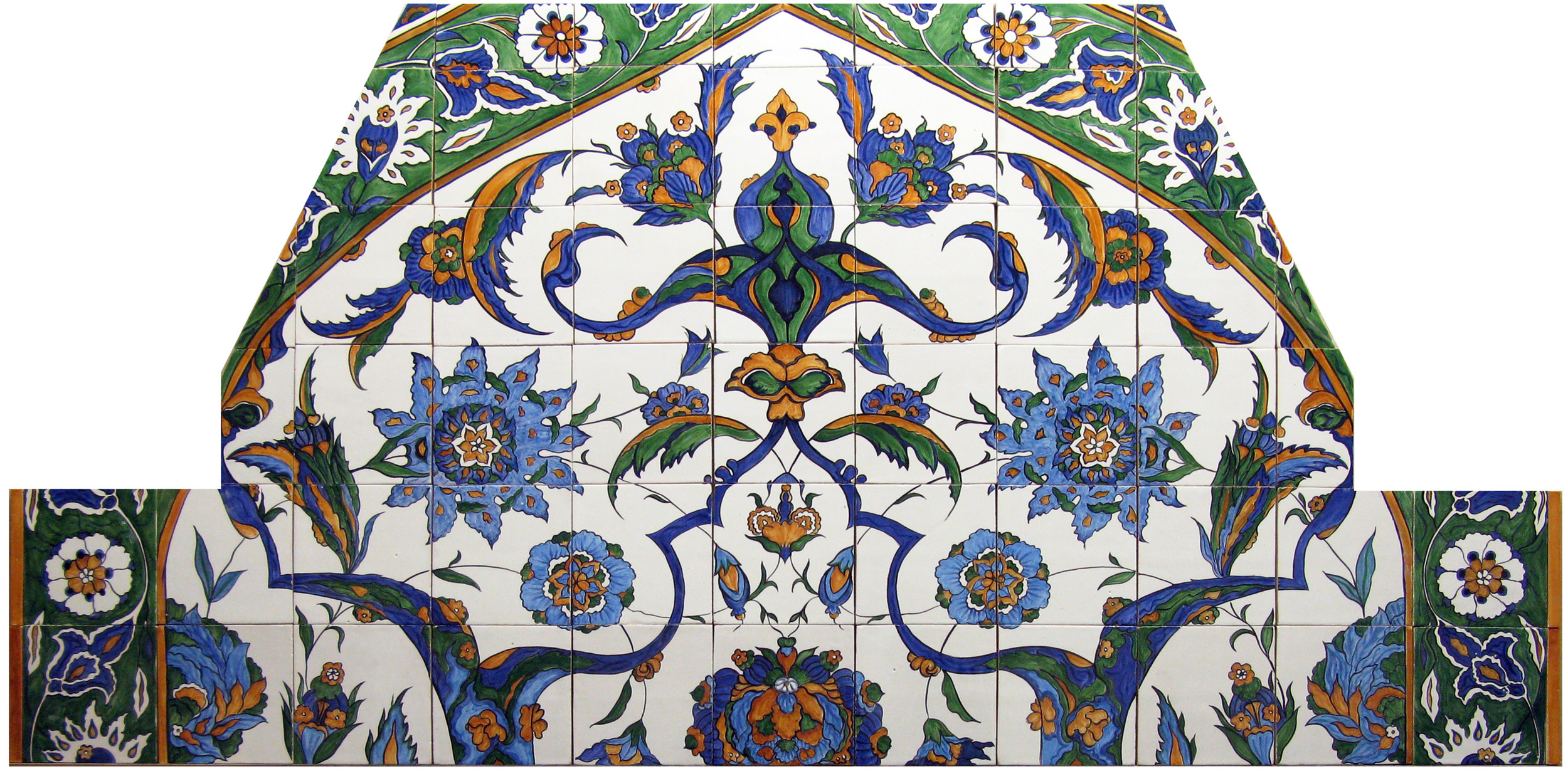 A panel based on a traditional Islamic design painted for a client's hearth.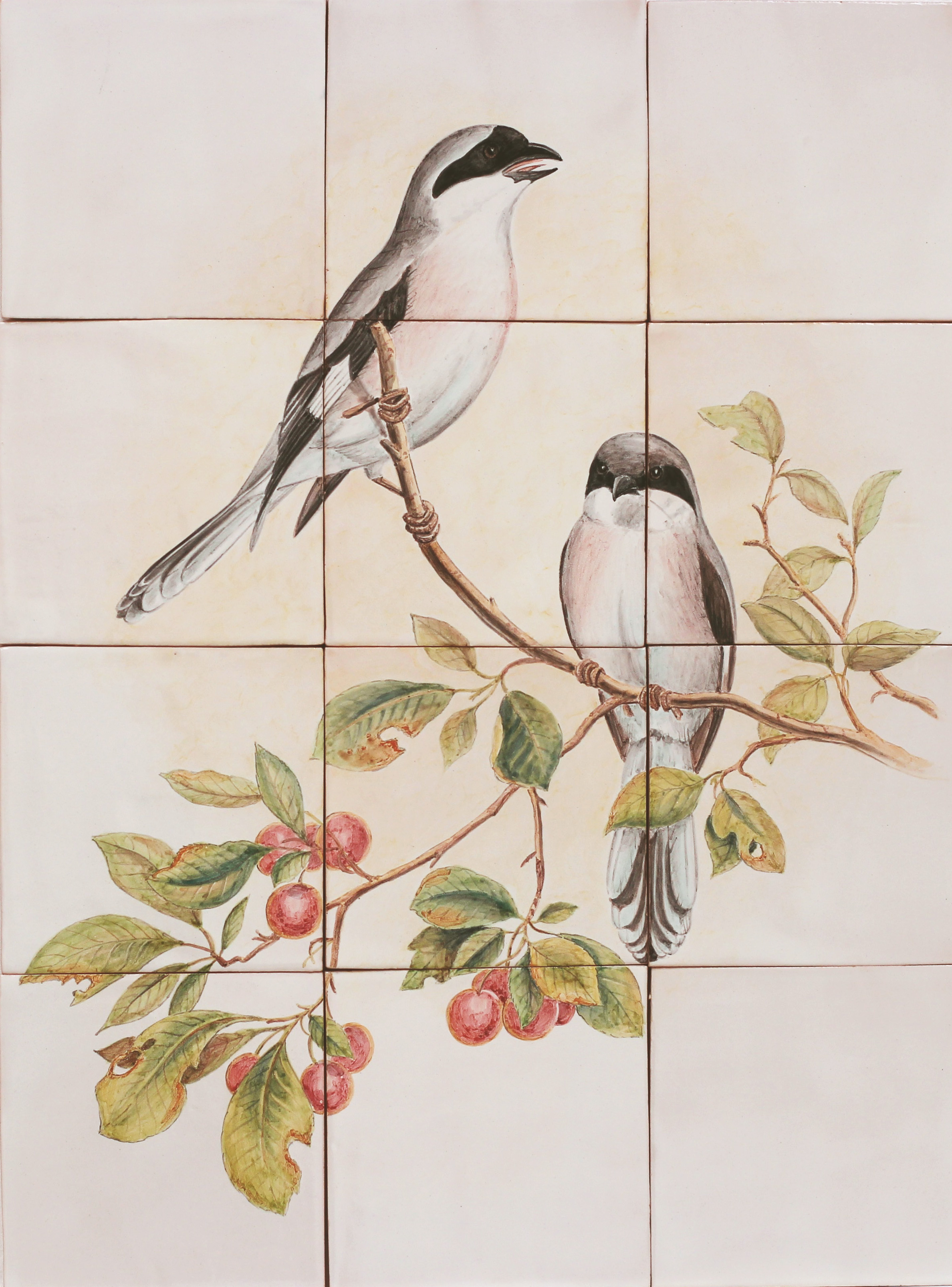 A beautifully painted panel depicting two birds. The original print was supplied by the client.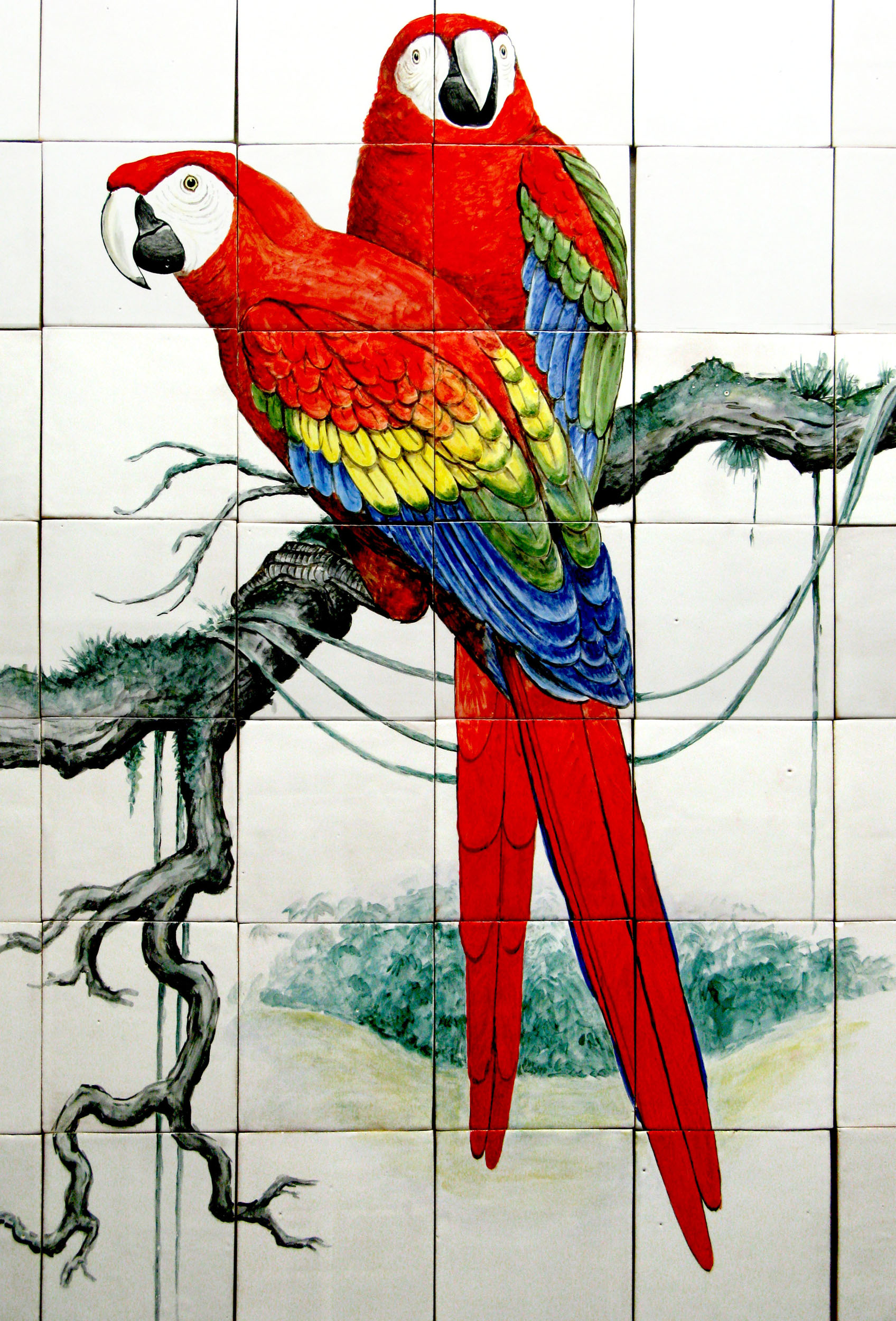 A vibrant panel depicting macaws.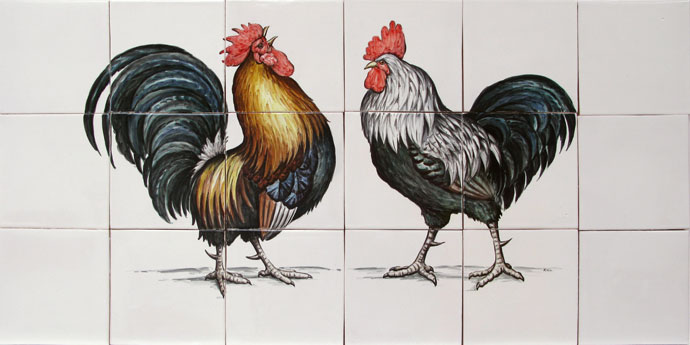 A pair of fine Cockerels, commissioned by a French lady.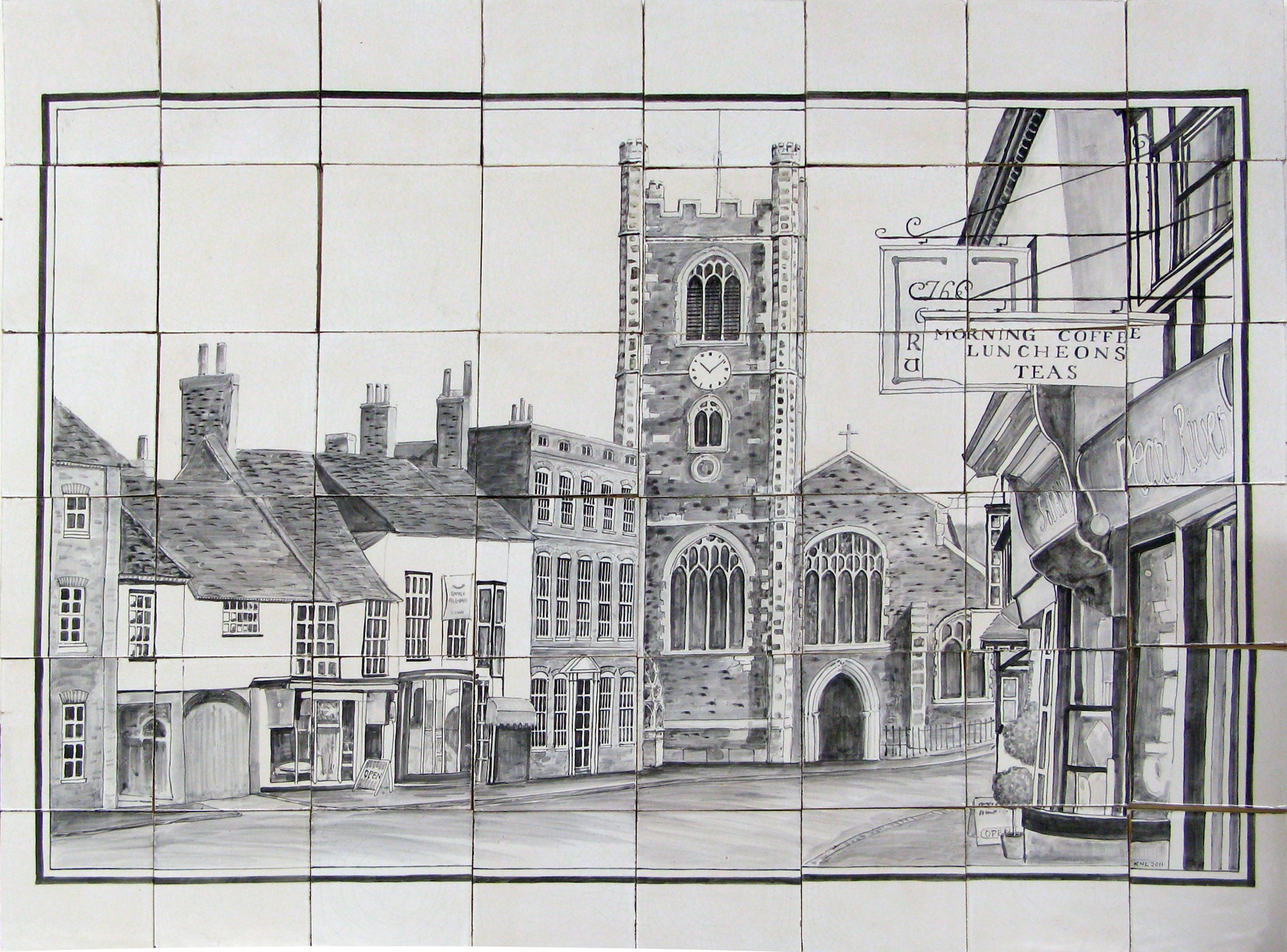 A view of Henley painted for a client. The town is about 3 miles from our Studio.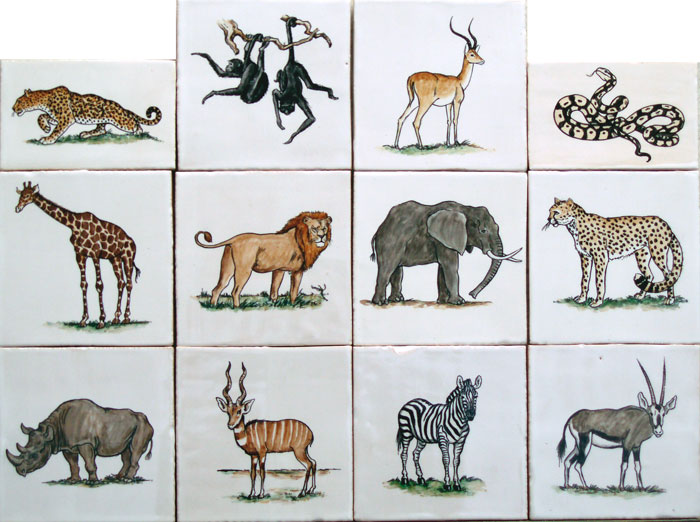 A collection of Safari animal designs, painted on 6″ and 3 x 6″ tiles.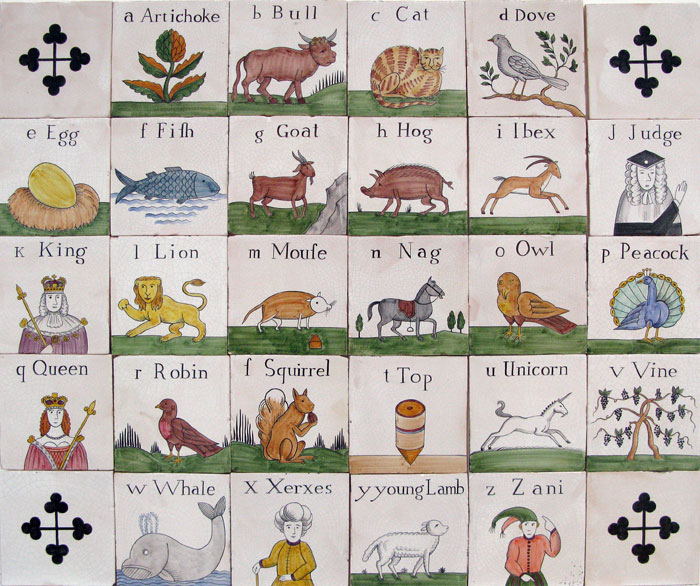 A collection of the Old English Alphabet range (A-Z) with four motifs in each corner. This is also a great layout idea for clients looking at having an alphabet series on their walls.
These tiles are painted on an antique soft white glaze, but would look lovely on any glaze tint background.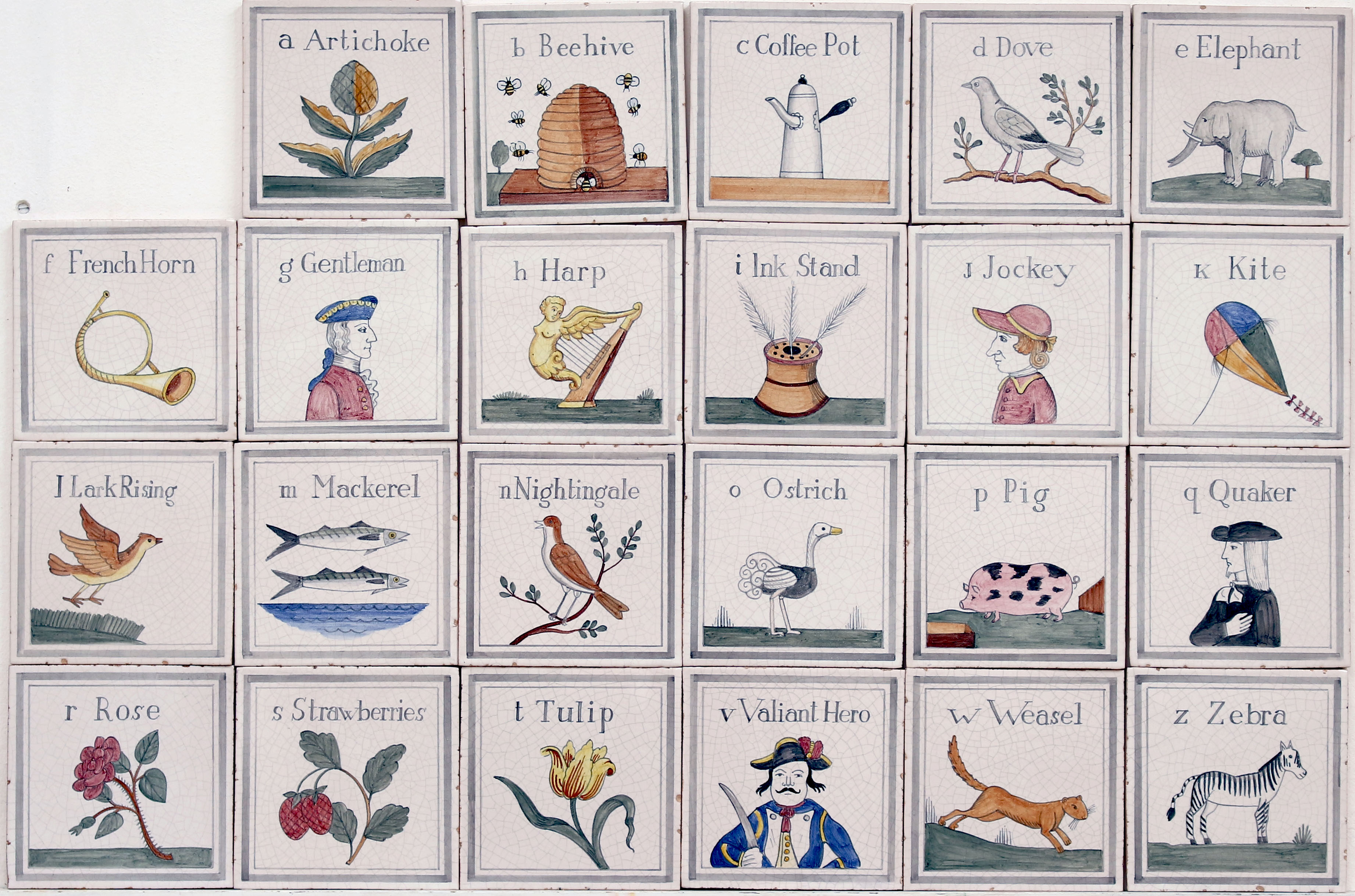 A bespoke Old English Alphabet for a client in America. This alphabet has been painted in a specific colour way to suit the clients traditional taste in colour and design.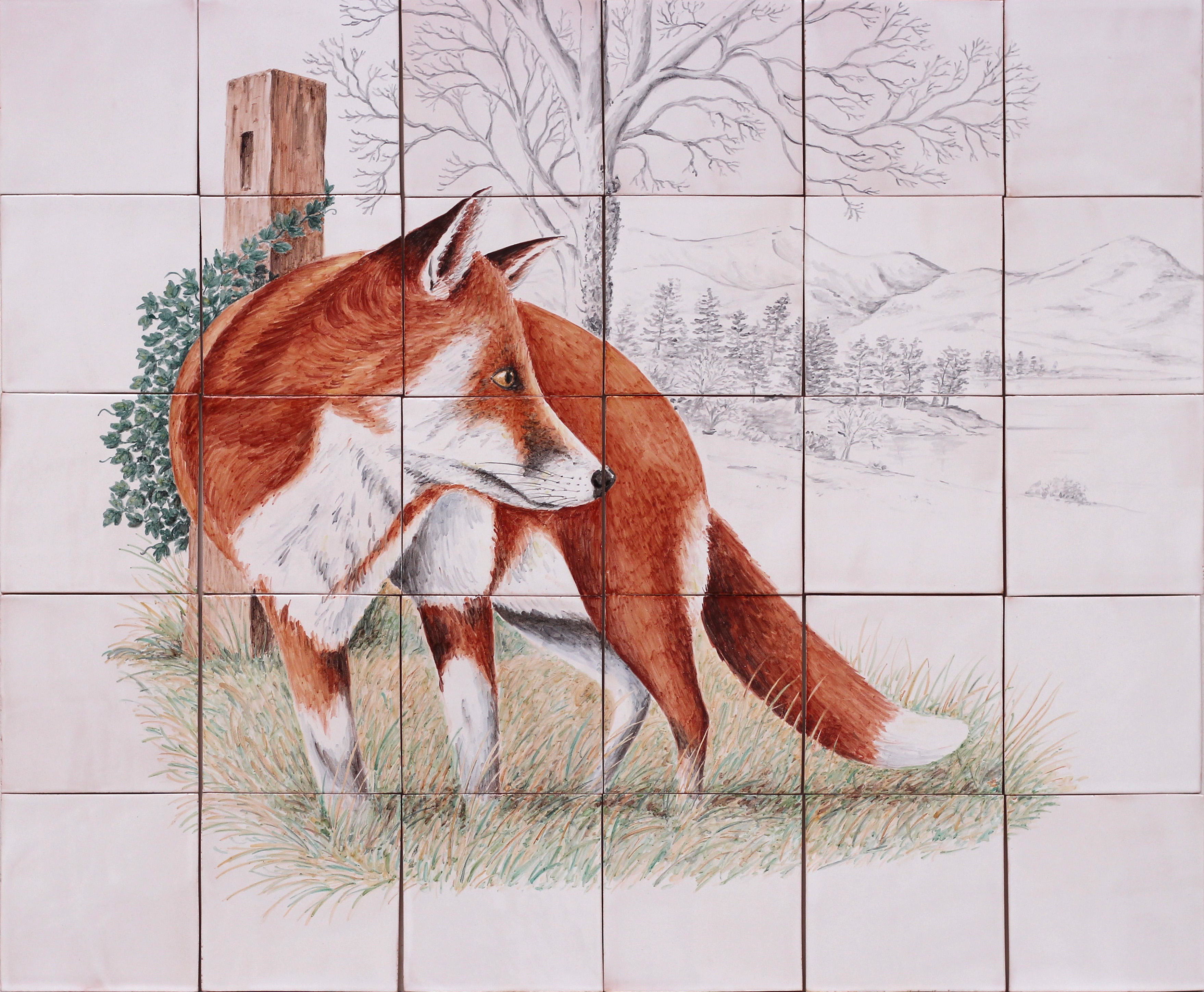 A Fox Panel, painted by Neil. Commissioned by a client and painted in a naturalistic style with a greyscale background.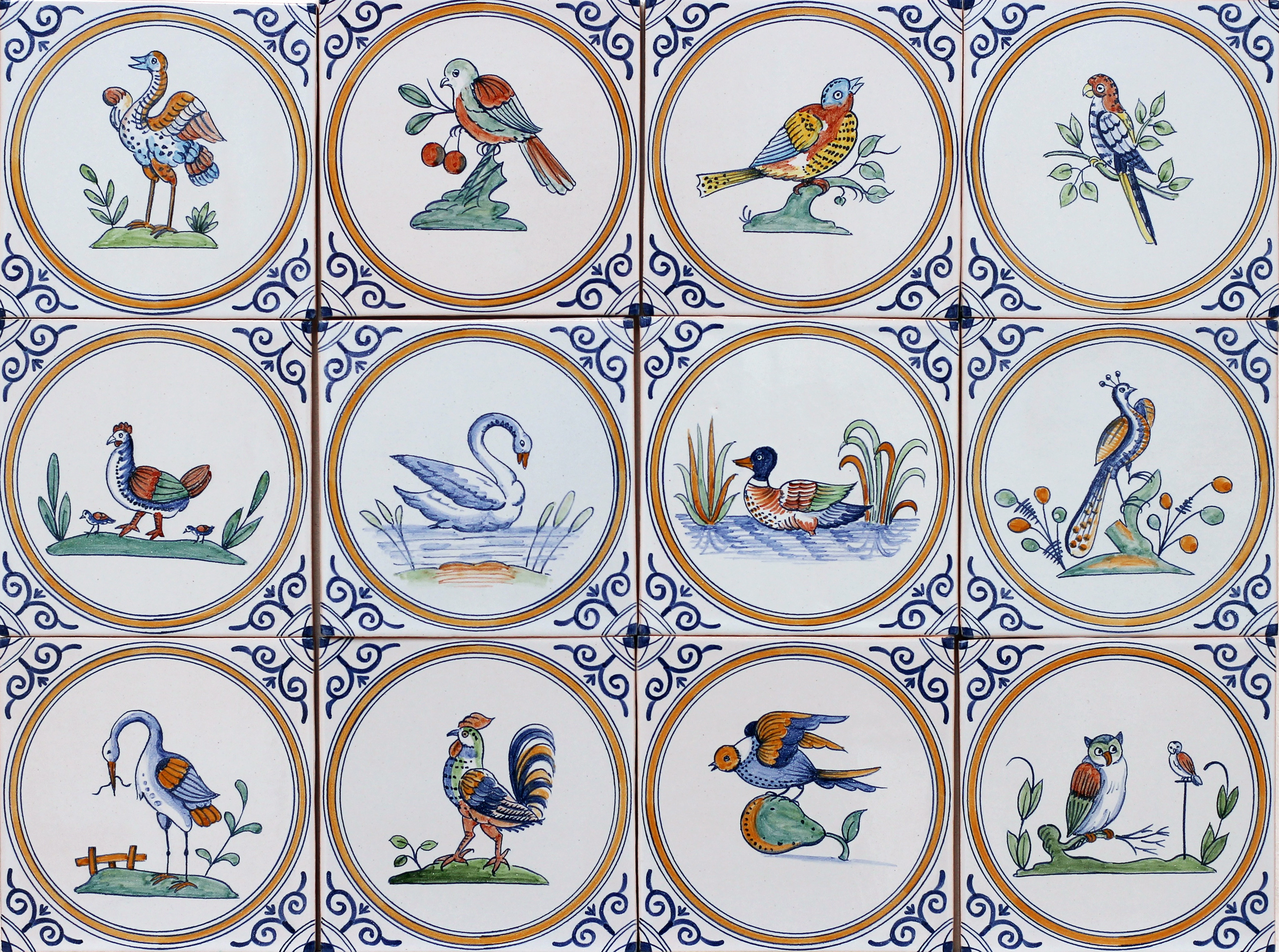 A collection of birds in series, painted specifically to cater to a clients requests. These charming birds look great in circles but can be painted without and with any corner of your choosing.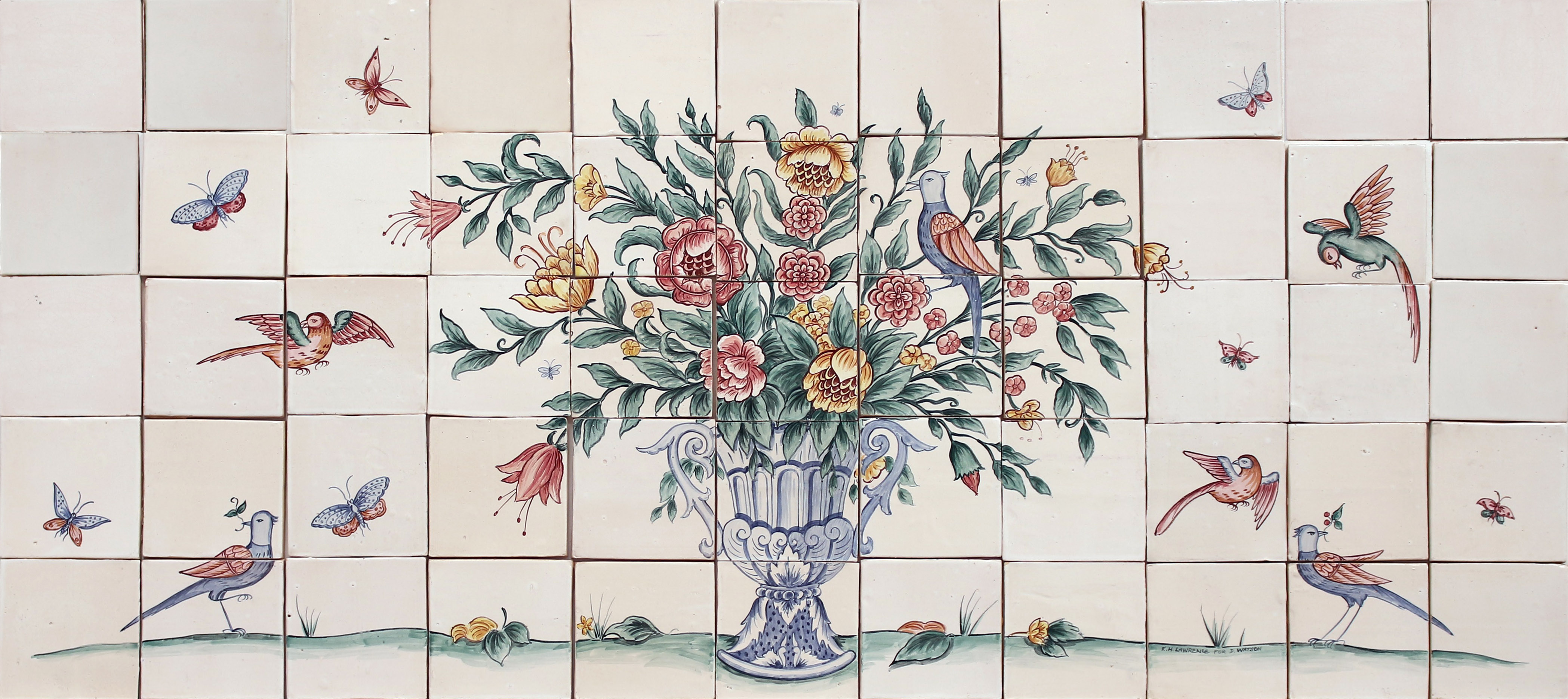 Our popular Vase panel, painted here in polychrome.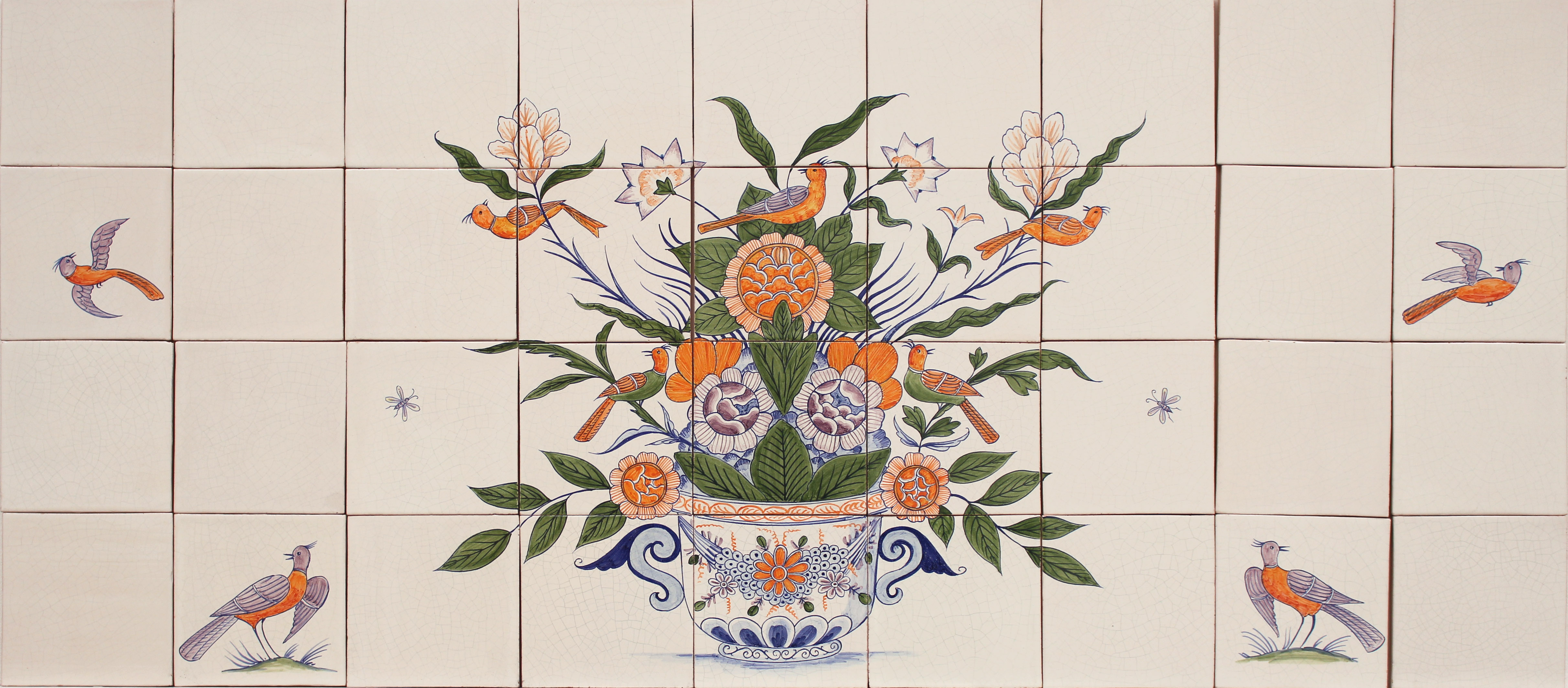 A bespoke orange flower vase panel.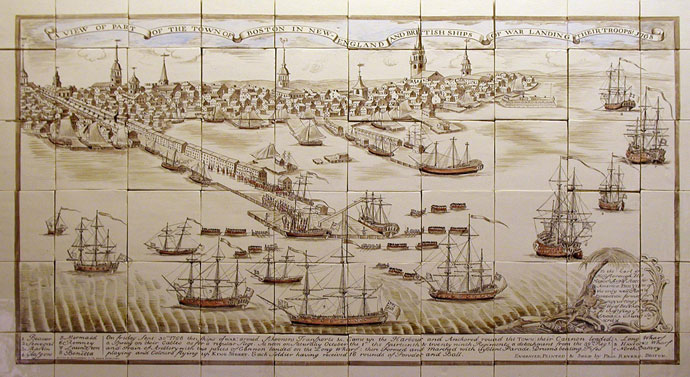 A map of Boston.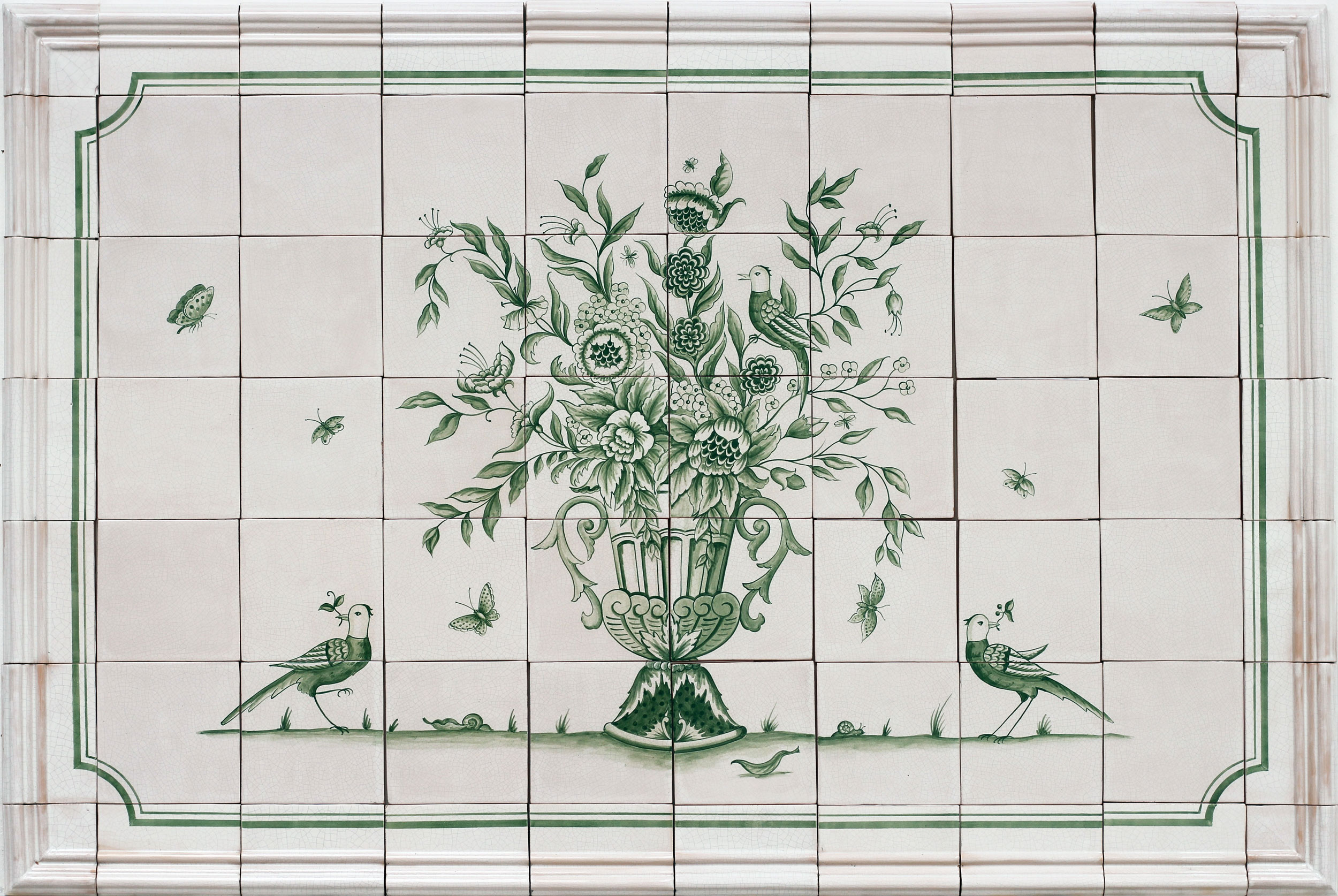 Our popular traditional vase panel, painted in green.